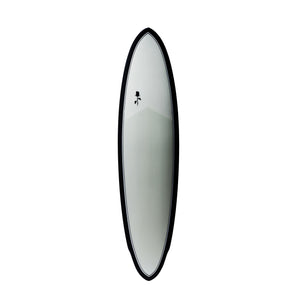 Benedict
Rail Type:
Down rail with edge

Tail: Rounded pin
Description:

 
The Benedict is our traditional mid-length egg outline, complimented by a bump in the last 8 to 10 inches of the tail. This allows us to pull the last bit of the board in, preventing it from sliding out in critical sections, while maintaining enough width in the back half of the board to retain that flowy feel you expect from an egg. The nose is slightly bellied, flattening out through the middle of the board and transitioning into a generous double concave through the tail.
Comments:
This board is very lively in conditions from knee high to double overhead+. A good board for beginners and experts alike, and a great travel board; the Benedict can be ridden in most conditions.
Dimensions:
 
7' 2" x 
15 1/8" x 21" x 15" x 2 3/4"
Additions:
 
Two-sided resin tint, resin pin line

Deck Patch: 
Semi-Western
Order: For all custom board orders, questions, and inquiries, please email rndsurf@brighthouse.com
Prices reflect boards with no add ons.