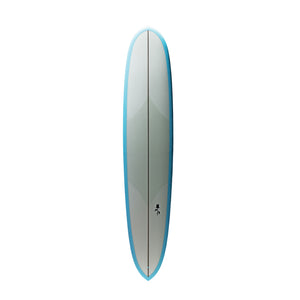 Palindrome
Rail Type: 50-50 

Tail: Pin
Description:
T
he Palindrome is a classically balanced pin-tail log. This model stays relatively wide throughout the majority of the board, giving it stability, yet pulls in towards the nose and tail to characterize this model as lively, forgiving, and fluid.
Comments:
R
idden at the same size or smaller than your go-to log, the Palindrome is great for when the waves have more punch, are steeper, and more hollow. Enough width in the nose to lock into high-speed nose rides, narrow enough to whip around and take critical chances without the worry of catching a rail. Order this board in the 9'8″ – 10′ + for an all around great noserider. You'll find the Palindrome works well in an array of conditions, from ankle to double overhead.

Board Pictured

Deck Patch: 
Western
Order: For all custom board orders, questions, and inquiries, please email rndsurf@brighthouse.com
Prices reflect boards with no add ons.