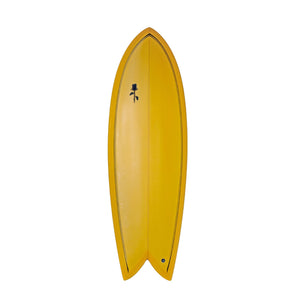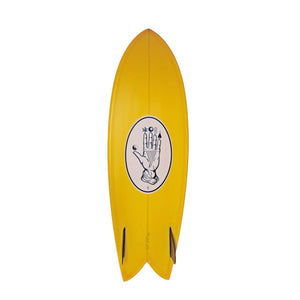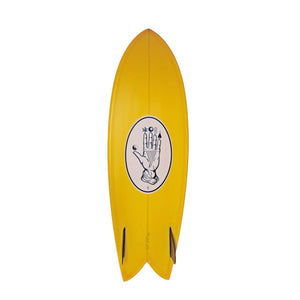 Sheepshead
Rail Type:
Down rail with edge
Description:
A more full, traditional keel fin fish than our Thin Liszy model. The Sheepshead is more parallel through the back half of the board and thicker in the rails which have a slightly blended bevel. This board overall has more foam than the Thin Liszy so it is going to be easier to catch waves and perform a little better in softer/flatter conditions, as well as, more critical conditions. There's a generous double concave through the tail giving the board a nice lively feel and when paired with keel fins the board still retains plenty of drive. The more parallel rail line through the tail naturally draws the surfers turns out a little more and gives the board more of that classic feel but with modern undertones. A great all around keel fin fish to add to your quiver.   
Comments:
With the extra foam we recommend the surfer ride this fish 1-2" shorter than the Thin Liszy (i.e. a rider that is 175, 5'8 and rides a 5'6″ Thin Liszy would want a 5'4″ Sheepshead). The Sheepshead is going to be more approachable for the less experienced surfer, or those coming from a mid-length/Log background that may be looking for a shorter board. That said, it is a good board for all skill levels, even expert surfers.
Board Pictured
Dimensions:
5′ 4″ x 16 3/4″ x 20 1/2″ x 16 3/4″ x 2 1/2″
Additions:
Two-sided resin tint, glass-on
keel fins, black resin pin line, and laminate art
Deck Patch: 
None
Order: For all custom board orders, questions, and inquiries, please email rndsurf@brighthouse.com
Prices reflect boards with no add ons.