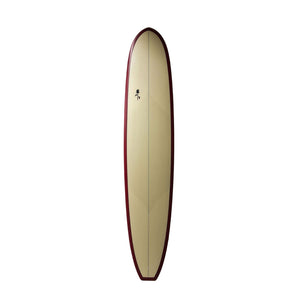 The Breeze
Rail Type: 50-50 

Tail: Square

Description: Dylan Andrews is a good ol' boy from the boondocks and an understated surfer, so much so, we made him a model. His Uncle Fred ran sound for Molly Hatchet, the Allman Brothers, and Lynard Skynard in the '70s and '80s. He grew up surfing and raising hell, usually blaring Skynard and other southern-rock classics. The Skynard track, The Breeze, is a beautiful anthem and the lyrics aptly describe the Southeast mindset and Dylan's demeanor.
Around 15, Dylan got his first legitimate single fin noserider from Robert August. At 17, he ended up scoring two high 9s on that board at the U.S. Open, before the criteria favored logs. He really came into his own on his Robert August, and could, and still can hang ten longer than anyone East of the Mississippi. Time has taken its toll on this faithful board, so we wanted to make Dylan a fresh board inspired by the original one he grew up riding.
 
Comments: An extremely versatile board. This streamlined noserider, like the Dark Horse, is very user-friendly. It has forgiving rocker; not too much, but it is not a "flat board". The nose and tail pull in more than our other noserider models and the rails thin out a little into a more pinched 50-50 rail. This board is great from the nose and fast and lively from the tail. There is generous nose concave that subtly transitions into the relatively flat bottom. Great for any surfer, from the entry level logger to even the most experienced wave rider.


Deck Patch: 
Western
Order: For all custom board orders, questions, and inquiries, please email rndsurf@brighthouse.com
Prices reflect boards with no add ons.